Why Canada is the Best Country for Overseas Education?

Have a plan of continuing your higher education abroad? Does USA sound too mainstream to you? Have you ever given a thought to Canada? No? Well, let me introduce to you the various aspects of overseas education in Canada. Read the article to get to know about famous scholarships, whether you can work while you study in Canada, the top 5 universities in Canada and much more.


The dream of pursuing higher education abroad is a dream fostered by every dreamy student in every part of the world these days. And if you are looking for the precise details looking at which you could decide upon which country you want yourself or your child to study in, you may be directed to foreign education consultants who may charge you a considerable fee for all the advice and arrangements they are ever going to make. We, in this article, let you know all that for free of cost. Bingo!

So like our previous article, which detailed as to why study in New Zealand, we let you know through this article why Canada is a good place to go study. Canada is among the very few places on earth that do not have as high a population density compared to most countries in the world. Apart from that, Canada values its education a lot. It is one of those countries that invest a considerable part of their GDP into the education section. The investment made is greater than the average of the OECD countries and is the second highest among the G-8 countries. With that said, let's embark on a study of the reasons why Canada is one of the most favorite study-abroad destinations in the world.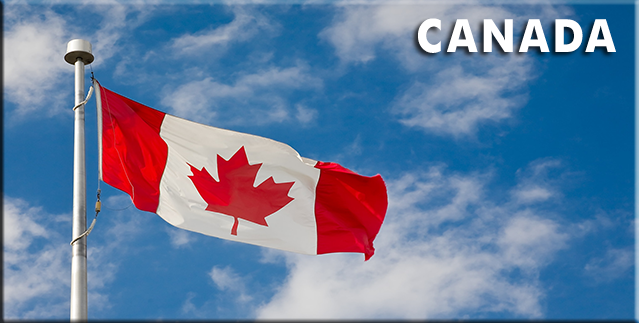 Life at Canada

If you didn't miss your important social science classes in High school, or for that matter have a greater than average IQ, you would know that Canada is the world's second largest country in the world, going by the area of the subcontinent. Even then, the population of Canada is sizably smaller than many such other countries that have a small land area, including area. So let us talk about the life at Canada in general before moving on to studying the various aspects of education at Canada.


The People

Canada, the second largest country in the world is a developed country. But besides just the skyscrapers, you'll also find vast stretches of uninhabited land in the subcontinent. And much to our surprise, the population of Canada is as small as 35 million people approximately. That's like less than the population of Mumbai, Delhi and Kolkata added together. And when I talk of numbers, it includes the considerable Punjabi population that lives in Canada. If you didn't know yet, Canada is the most favorite destination abroad for Punjabis.

Even though the small population that Canada has, it has huge diversity among its people. People from all corners of the world migrate to Canada for reasons of work or study. The people of Canada are known to be quite friendly, assistive and responsive. So you won't have to meet a psychologist every month because you found no friends when you migrated to Canada for higher education.


The Place

The country encompasses terrains of almost all kinds including vast hilly regions to plains and plateaus. If you are willing to admire the diverse flora and fauna in the country, you must pay a visit to the Jasper National Park of Canada. Delve a little into Googling about it who knows, you may end up reserving for yourself a suitable campsite at one of Canada's many national parks. Canada's national parks are famous for their all inclusive geography. And if that's not enough, maybe you should pay a visit to the Canadian Museum of History.

All in all, waterfalls, beaches, rivers, hills or vast grasslands, name it and Canada has it. Surrounded by three oceans, Canada is the dream destination of people around the world.


The Climate

Canada is a place which is known for the cold weather and snowfall. However, it does have a diverse climate, with Canada having four distinct seasons, especially in regions which are more populated. The summers are dry and hot and most humid in the central parts and rather mild in the coastal areas. Winters usually experience considerable snowfall. Temperatures go down as low as minus eighteen (-18 degrees) Celsius in cities like Winnipeg and Regina while summers may be hot up to 35 degrees Celsius. Certainly, weather is one of those things which makes Canada a place worthy of at least one visit in a lifetime.


Things to do

Canada would be fun be at for you if you're someone who loves to have an eventful life. You've got a billion things to do at Canada. For instance, in the state of Alberta alone, you can get a helicopter ride to great heights post which you're supposed to hike. You can ski, or snowboard, can have campfire and whatnot. If you're an art lover, the Glenbow Museum in Calgary must be a must-visit destination for you. While you're in British Columbia, try spotting a humpback whale or an orca in Tofino.

Besides, Canada is paradise for music-loving people. Toronto and Ottawa have some of the best midnight discos in Canada. What were you thinking when we told you it's the world's second largest country?


Cost of Living in Canada

When you're migrating to another country, one of those things that you must think about before doing anything else is think about the budget. For a moment, let us ignore the possibilities of supporting ourselves abroad by means of work while study or other such opportunities available and feasible while you're studying abroad. The reason is even if you're going to be able to find work, if the cost of living is much greater than you can afford, even your part-time job might not be able to help you much. Thus, it is important that before we move on further, we do perform at least a superficial analysis of the cost of the living in the country you're visiting against the one you live in currently or any other country with whose cost of living you're familiar with. For the purposes of this article, let us compare the cost of living in USA against that in Canada.

To begin with, the cost of living in Canada, in general, is much lower than that in the US. Thus, studying abroad in Canada must not be too tight on your pocket. For example, the amount that one may have to pay for a one bedroom apartment in the centre of the city might be something around 1100 Canadian dollars while for the same, one might be compelled to shell off to the extent of 1500 C$ even. Again, a regular cappuccino is supposed to cost you at least 130% extra on an average against that of what it will in the US. Besides, daily household products such as eatables, fruits, wine etc. are all less costly in Canada, when compared to the US. One of the most important things that you must consider while you're planning to migrate to another country is the cost of transportation. Be it a taxi or a commute in a local transport, it's going to cost you more in the U.S. Okay, again, I won't hide things from you. The cost of gasoline in the U.S. is usually less than that in Canada. But if you think about it, it hardly matters because it is highly unlikely that while you are abroad, in another country and while you may be struggling to pay for your daily expenses, you may be able to buy a car. So, worrying about the cost of fuel seems inconsequential, doesn't it?

In fact, the difference in the cost of living and cost of education in general is so huge that if you were to follow dailymail, they said in an article of April 2013 that students from the United States are flocking to Canada for availing higher education because of the considerably low tuition fee and the low cost of living that Canada has to offer without essentially asking you to compromise with your education.


Scholarships offered by the Canada's Government and Universities

Studying abroad is a dream many foster. Although there are many more meritorious students who deserve to study abroad, they fail to do so because of lack of financial support. But in the 21st century, truth is that for the deserving, there are no hurdles. Talking about the much needed financial support, scholarships are one way of dealing with it. Of course there are other ways such as working part-time or interning (which in fact adds on your CV in the name of work experience). Since this article is about studying abroad in Canada, it is imperative that we let our readers know that scholarship funding for international students in Canada is not as huge as that in countries like New Zealand. Perhaps that has something to do with the more affordable environment that Canada has against countries like New Zealand and the United States. But nevertheless, like all other countries, Canada too, does offer some scholarships. If the government seems to you not too generous, the universities will be of some hope to you.

Going about scholarships, the first thing that a student should do is try to explore the scholarship opportunities at his home country. Usually, the Department/Ministry of Education does facilitate students with financial help. Maybe you're supposed to meet certain threshold of qualification or take a test and you must be good to go. For reasons of space, I will only be dealing with scholarships that the government of Canada and the universities of Canada provide to international students. So let's begin!


Vanier Canada Graduate Scholarships

Offered by the Government of Canada, this scholarship was created with the aim of promoting and retaining high class doctoral students and make Canada the centre for research and higher learning among students who wish to seek a doctoral degree from abroad. This scholarship is given towards research in social sciences, humanities, engineering, health sciences and natural sciences. About 170 scholarships worth of 50000 Canadian dollars per year for three years are awarded annually by the Government of Canada to both Canadian as well as international students.

To be eligible for this scholarship, the student must be nominated by a Canadian university. Such university must have received a valid Vanier CGS allocation. The said student must be pursuing his first doctoral degree and must have completed not more than the first 20 months of his or her doctoral studies, usually as of the first day of May of the year the student is applying for this scholarship.


Humber International Entrance Scholarships

Humber college is a well known institution, situated in Ontario, Canada. It offers full and partial scholarships to new international students enrolling for the undergraduate courses. Briefly, this is a renewable tuition scholarship for international students eligible for the undergraduate programme offered at the Humber college. There are two full tuition scholarships and two other scholarships, each worth five thousand dollars. This is available in the the month of September, while in the month of January of the following year, one scholarship of each kind is available.

To be noted about this scholarship is that for deserving students, it shall be a boon, for it is renewable. If the student is able to maintain at least 75 percent GPA each year of his undergraduate program at Humber college, his scholarship program will be renewed.


York University International Student Program

This is one of the most famous scholarships that a Canadian university has to offer to international students. The York university, under its international student program, offers two different kinds of scholarships to international students. The first one among them is the Global Leader of Tomorrow Award, which is basically 68000 USD. Basically it is 17000 USD for four years. The second scholarship is called the United World College Scholarship, worth 28,000 USD for four undergraduate course years, equaling a total of 112,000 USD. Apart from the United World College Scholarship, the International Entrance Scholarship also provides assistance to international students. This scholarship is equal in value.

These scholarships are to be availed by students who want to take a full time undergraduate degree at the University of York, which is situated in Ontario, Canada. The scholarship is open to a number of fields of study, including arts, media, performance and design, environmental studies and many others. The given scholarships are renewable in nature provided the students who availed them in the first place maintain a high academic performance each year.


International funding by the University of Waterloo

The University of Waterloo is a public university, and is about 70 years old (since its establishment). One of the biggest and most well known universities in Canada, the University of Waterloo provides a horde of scholarships to its international students. I would like to take this opportunity to discuss them all in some detail:


International Master's (IMSA) and International Doctoral Student Awards (IDSA)

To be eligible for these scholarships, the student must be enrolled in a full time research based graduate degree program at the famous University of Waterloo. Besides, he must also hold a valid Canadian study permit. He must not be receiving external awards or monetary assistance by way of scholarships besides these scholarships.

International students who are registered in a full time MA, MASC, MES, MFA, MMATH or MSC degree program will receive International Master's or IMSA scholarship worth 1880 US Dollars, while international doctoral students enrolled in some PhD program will receive a International Doctoral Student Award worth 3760 USD for three years. They will also receive the ISDA4 award in their fourth year, which is equal in its net worth to which the university shall contribute to the extent of two-thirds while the supervisor or department shall be responsible to fund one third of the amount.


The Ontario Trillium Scholarship (OTS)

The Government of Ontario, in order to attract the best of the lot of international students to Ontario, Canada to further their higher studies, announced the scheme of Ontario Trillium Scholarship. Under this scheme, the Ontario trillium Scholarship is awarded to incoming international students who are taking some PhD course, for a maximum of four years. Each Ontario Trillium Scholarship is worth 40,000 USD per year and is renewable for the next three years if the student availing the scholarship maintains high academic records and doesn't fail to meet the eligibility criteria necessary to avail this scholarship.

To avail this scholarship, a student intending to take a PhD degree at the University of Waterloo, Ontario, Canada, must hold a valid study permit issued by the Government of Canada. There are other eligibility requirements, which can be easily met. These requirements can be studied in detail at the university website.


Trudeau Foundation Scholarships

This scholarship is offered to students pursuing PhD programs in the fields of social sciences and humanities. The Trudeau Foundation, under its Trudeau Scholars Program grants scholarships to up to fifteen students every year, who are pursuing research of what they call "compelling present-day concern", and must be related to at least one of the four themes of the Foundation, which are 'human rights and dignity', 'responsible citizenship', 'Canada in the world' and 'people and their natural environment'. To avail this scholarship, a PhD scholar must be nominated by a university. Apart from this, an application is required to be filled, which must be supported by references and transcripts. There is further reviewing of the application. The rest of the procedure can be accessed on the Trudeau Foundation website.


Fairleigh Dickinson University's Presidential Scholarship

The Fairleigh Dickinson University, through its Presidential scholarship offers a full tuition waiver scholarship to undergraduate freshmen. To avail this scholarship, a student must have scored 1300 or higher in the SAT and must have a minimum GPA of 3.5 in his course. Besides, he must be nominated by a Guidance or career counselor or EducationUSA advisor. Additionally, he must submit a personal essay on any topic of his choice.

Besides the Presidential Scholarship, the Farileigh Dickinson University, also offers the Colonel Fairleigh S. Dickinson Scholarship to undergraduate students for which a student must have scored 1050 or higher in the SAT and must have a minimum GPA of 3.0. This scholarship is renewable up to 4 years, subject to conditions. Apart from the abovementioned scholarship, the FDU offers the FDU International Scholarship (ranging from 1000 USD to 15000 USD), the Global Housing Grant (valued at 3000 USD), the FDU Family Grant (valued at 1500 USD) and more.


Work While Studying in Canada

Money issues never leave your trail once you migrate to another country for furthering your higher education. When it comes to Canada, they have to offer to you a number of work possibilities if you plan to further your higher studies at Canada. An international student willing to avail higher education at Canada can work on-campus, off-campus and can intern.

To be able to work on-campus, an international student need not have a separate work permit. However, it is imperative upon him that he must hold a valid study permit and must be enrolled into a full time course at either a public post-secondary institution, or an eligible private one or a private institute authorized to confer degrees. It isn't too difficult to get on-campus work in Canadian.

At the same time, if an international student intends to work off-campus, the study permit won't be enough. He must have a valid work permit in order to work off-campus. Just like in the case of on-campus work, the international student must be pursuing a full-time course at a participating, publicly funded institution or a private one which is eligible. Students with off-campus work permit can work up to 20 hours every week during their academic season and can work full time during semester breaks and holidays. Apart from being full-time students, a student must also maintain high academic standards. To apply for an off-campus work permit, the student must have studied at least for a period of six months. In case of internship, an international student does require a work permit besides the study permit. To apply for a work permit for internship, an international student must have a valid study permit and the intended employment should be a part of the academic program he or she is pursuing in Canada. Besides, the internship mustn't be more than half of the entirety of the total program of study.

One additional benefit of studying at Canada is that besides the international student himself, his spouse too can work at Canada, without any other qualification but the need of a valid work permit. Thus, for couples, Canada is a favorite study destination because the spouse can stay with the student without being a burden on the same.

Who doesn't know the benefits of working while studying. Not only do you get to support yourself financially while you study in Canada, but you also get the much valuable work experience, which shall help you throughout your career both inside and outside any Canadian university where you plan to further your higher studies.


Settling Permanently in Canada

It may so happen that after a stay of a few years in Canada, you're in love with it so much you don't want to leave Canada and want to permanently settle down in Canada and work and live there post availing education at some Canadian university.

If such is your wish, fret not, for the path you must take is not tough to travel. If you are planning to stay back in Canada after graduating, it is highly advisable that you apply for a Post-Graduate work permit. This permit is valid for a maximum period of 3 years. To be able to be eligible for this temporary work permit, you must have studied full-time in Canada in a degree or diploma program that was at least 8 months in duration. You need to submit the application for the post-graduate work permit no later than 90 days from the day you graduate. This work permit provides you the freedom of working any job in Canada.

There are certain obligations you are supposed to meet before you can become a permanent resident of Canada, one of which is that you must be physically present in Canada at least for 2 years in every 5 years. This implies you can remain outside of Canada for a maximum of three year in a period of five years. You can also remain outside Canada beyond that period, but it is subject to conditions.


Top 5 Universities in Canada

For any uninitiated international student, it is imperative that he does a wide research on the top universities in the country in which he or she wishes to further his higher studies. Of course there are those who have their dream universities. But for those who want to go to Canada for further education but have no clue what university they must attend, we're here to shorten the time you are going to invest researching in this regard.


University of Toronto

Among the list of top universities in Canada, the Universities of Toronto seems to be on the top. Established almost two centuries ago, in 1827, the University of Toronto is a public university, situated close to the Queen's Park. It is a house to almost half a lakh students, of which over 33000 are undergraduates and over 13000 postgraduates. With a campus of 71 hectares, the University of Toronto has under it 13 colleges. The Constituent Colleges are Innis College, New College, University College and Woodsworth College, while the Knox College, Regis College and Wycliffe College are the Theological colleges. There are 5 federated colleges and one Postgraduate college by the name of Massey College, under it. The University of Toronto imparts education through a number of faculties under its name. Among them, the rather famous ones are the Faculty of Arts and Science, Applied Science and Engineering, Music, Information, Medicine, Pharmacy, Kinesiology, Law, Social Work and Theology. And you mustn't be surprised to know that the University of Toronto Libraries is the third largest academic library system in the whole of the North America, followed only by Harvard and Yale.


University of British Columbia

It was established in 1908 and about 60000 students in total avail education under its shade. It has huge campuses, with the Vancouver campus spread across 990 acres and the Okanagan over 515 acres. A few notable alumni of this university would include Bertram Brockhouse, who won the Nobel Prize in Physics in 1947, Kim Campbell, who stood the 19th PM of Canada; John Turner, the 17th PM of Canada. Even the current PM of Canada has been a student of the UBC.


University of Alberta

The University of Alberta too was established in 1908 and has a legacy. A public university, it imparts education to over 30000 students in total. It has five distributed facilities – the North Campus, the original location of the university has 150 buildings spread across an area of 230 acres; the South Campus, across 32,000 sq. km.; Campus Saint-Jean, the Augustana Campus, and the Enterprise Square.


McGill University

McGill University, again is a public university, almost as old as the University of Toronto, was established in 1821. About 40,000 students study in the McGill University. It has some valuable scholarships, which are though generous, yet difficult to attain. It wouldn't be an exaggeration if we say it has got a reputation to uphold – it has among its alumni 12 Nobel Prize winners, three Canadian PMs, thirteen justices of apex court of the Country, 140 Rhodes scholars, 28 Olympic medalists, nine Oscar winners and 3 Pulitzer Prize winners, among other alumni.


Concordia University

This seems to be a special case as it was formed and established by the merger of the erstwhile Loyola College and Sir George Williams University in 1974. It too houses about 45000 students, most of which are UG students. Astoundingly, it has over 280 undergraduate programs (perhaps a clue to the rather larger share of UG students in the total number of students). It has two campuses, which are basically of the old Loyola college and the Sir George Williams University. It has a rich library and has, in the recent past, come up with some new buildings.